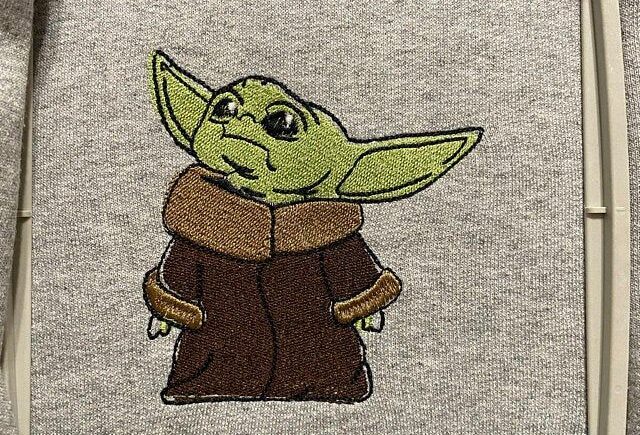 Baby Yoda machine embroidery designs have become increasingly popular in recent times due to the rise in popularity of the character and the hit Disney+ series "The Mandalorian". Baby Yoda, officially known as "The Child", is a beloved character that has captured the hearts of Star Wars fans worldwide.
Where to find Baby Yoda machine embroidery design files
In our machine embroidery design e-store embroidery designs featuring Baby Yoda can be found in a variety of styles and formats. Many designs showcase the adorable and expressive facial features of Baby Yoda, with intricate details that highlight the character's distinct personality. Others may incorporate playful elements.
Who may like to have Baby Yoda items?
There is a wide range of people who may want to have Baby Yoda machine embroidered T-shirts, closes, accessories or home decor – Star Wars fans, pop culture enthusiasts, and people who enjoy cute and adorable characters are likely to love Baby Yoda.
Why choose Baby Yoda design files?
These designs can be used to create a wide range of projects, from clothing to accessories to home decor. Baby Yoda embroidery designs can be used to create personalized baby items such as onesies, blankets, and bibs. They can also be used to add a playful touch to jackets, hats, and bags.
For those who enjoy crafting, Baby Yoda embroidery designs can be used to create unique and personalized gifts for family and friends. The designs can be stitched onto a variety of fabrics, such as cotton, felt, or even denim. Some popular projects include embroidered hoop art, tote bags, and keychains.
Baby Yoda embroidery designs are a fun and creative way to show off your love for this beloved character. With so many designs and project ideas available, there's no limit to the ways in which you can incorporate Baby Yoda into your embroidery projects.
Find out our newest Baby Yoda machine embroidery design files