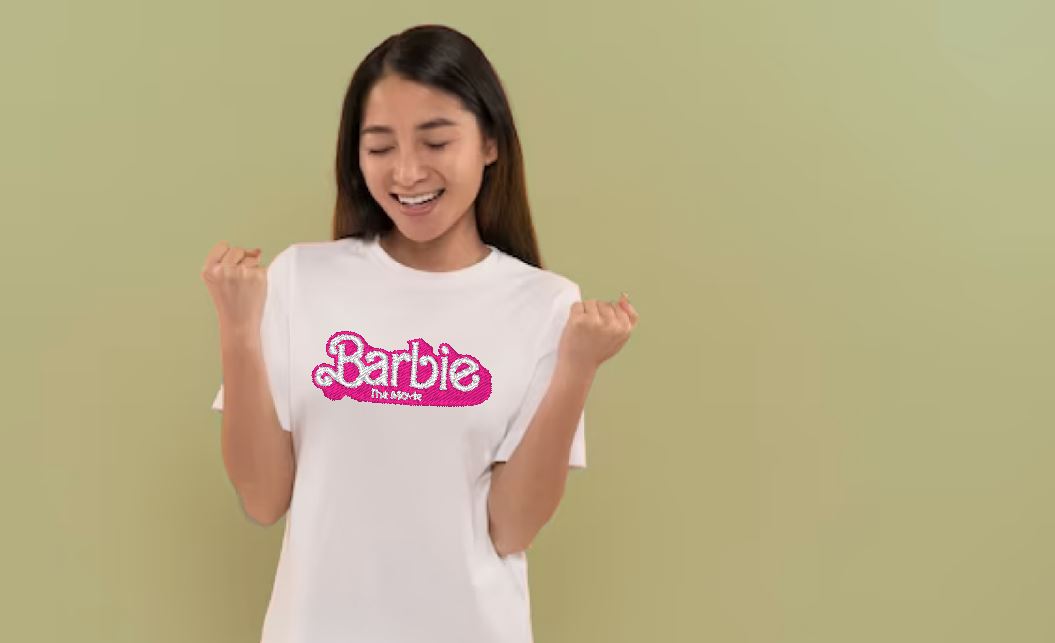 What are the most popular items to be embroidered with Barbie machine embroidery design? Well lets see in this post, but fisrstly let's understand why Barbie is so popular!

Barbie, the iconic doll introduced in 1959, has captivated generations with her timeless charm and boundless potential. With her ever-evolving fashion sense and diverse range of careers, Barbie serves as a canvas for imaginative storytelling and creative exploration. From glamorous gowns to astronaut suits, Barbie's wardrobe mirrors the dreams of those who hold her, inspiring endless adventures in playrooms worldwide.
The 'Barbie' movie in 2023 makes history with $1 billion and definitely made the world change in Barbie logo and Barbie brand popularity. What comes to the embroidery, you can see Barbie logo on any pieces of closes, bags, hats etc. Barbie logo branded items are super popular again in 2023. So let's make a Top 10 list of what items are most popular to embroider with Barbie machine embroidery files. As well we will take a look at amazing Barbie machine embroidery designs we have in our store

Barbie's iconic status within the world of fashion and style plays a pivotal role. Throughout her evolution, Barbie has donned an array of outfits, each reflecting the trends of its era. Her wardrobe has encapsulated the essence of different times, making her not just a toy, but a reflection of societal shifts in fashion and culture.
Barbie is more than just a doll; she's a canvas for imagination and dreams. For decades, Barbie has reigned as a timeless icon, transcending generations and captivating the imagination of millions around the world. From her debut in 1959, Barbie swiftly evolved into more than just a doll; she became a cultural touchstone, embodying the essence of fashion, aspiration, and boundless creativity.
Remember that the reasons for creating Barbie machine embroidery design embroidered items are personal, and you should engage in this activity because it brings you joy and satisfaction. Whether you're embroidering for yourself, as gifts, or for artistic expression, the process itself can be incredibly rewarding.

Top 10 items to embroider with Barbie machine embroidery design
Creating Barbie machine embroidery items can be a fun and creative project. Here's a list of the top 10 items you might want to consider using for your Barbie machine embroidery designs:
T-shirts and Tops:
Embroider the Babrie machine embroidery design on plain t-shirts or tops to create unique and stylish clothing items.
Dresses and Skirts:
Add Barbie motifs to dresses and skirts for a cute and playful touch.
Jeans and Pants:
Customize denim jeans or pants with Babrie machine embroidery design to make a fashion statement.
Tote Bags:
Create Barbie-themed tote bags for carrying books, toys, or other items.
Pillowcases:
Embroider Babrie machine embroidery design on pillowcases to decorate bedrooms or playrooms.
Bedding Sets:
Add Babrie machine embroidery design to bedding sets, such as sheets and pillow shams, for a coordinated look.
Hats and Caps:
Personalize hats and caps with Barbie motifs for a trendy accessory.
Children's Jackets:
Embroider Barbie designs on jackets to create adorable outerwear for kids.
Quilts and Blankets:
Incorporate Barbie embroidery into quilts or blankets for cozy and comforting designs.
Barbie Doll Clothes:
Make miniature outfits for Barbie dolls using embroidery to enhance their wardrobe.
Remember to choose fabrics and materials that are suitable for machine embroidery and consider using stabilizers to ensure the best results. Additionally, make sure to select appropriate thread colors that complement the Barbie designs and the items you're embroidering. Enjoy your creative project!
Just take a look at these amazing Barbie machine embroidery design files we have in our e-store!
Want to get more machine embroidery files?