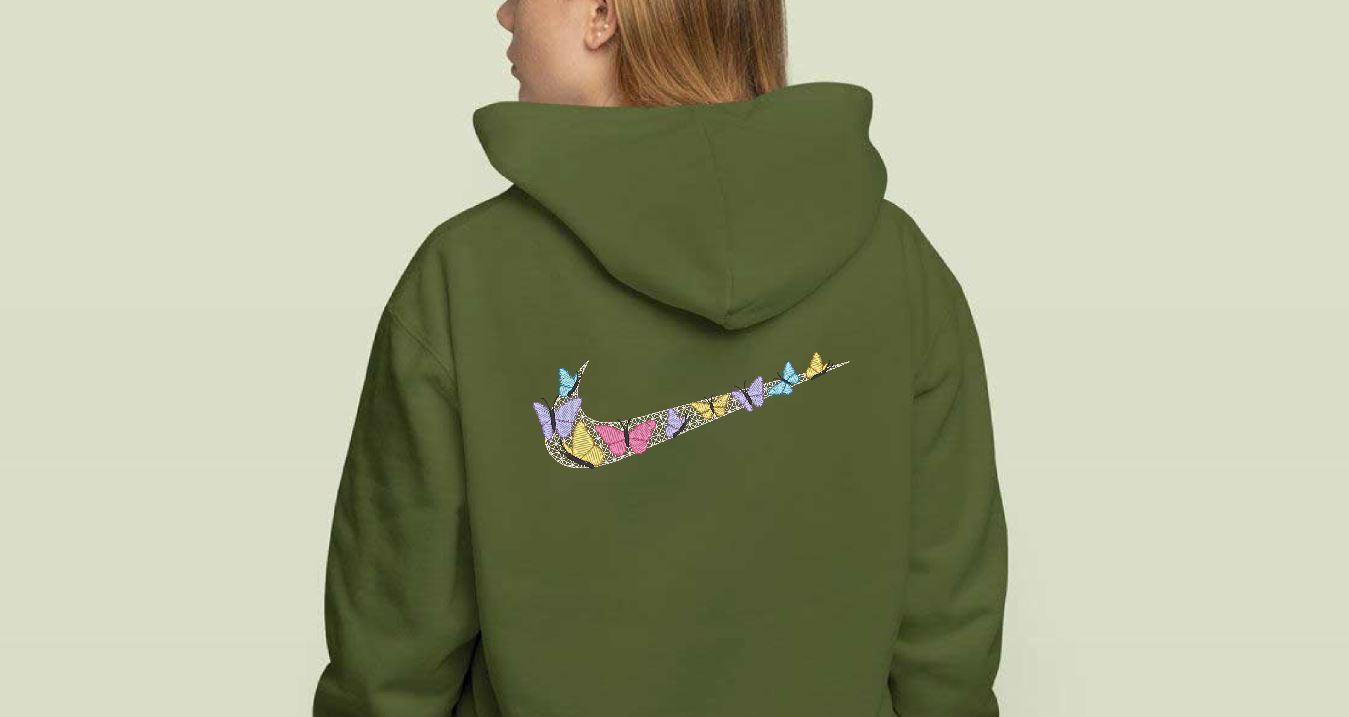 Butterflies are an enduring symbol of grace, beauty, and transformation. Their intricate patterns and vibrant colors make them a perfect subject for embroidery. If you're looking to add a touch of elegance and whimsy to your everyday items, consider embroidering them with a stunning butterfly machine embroidery design. In our shop, you may find stunning butterfly designs for your projects. But here you will find some ideas for items that can be transformed into artistic delights with butterfly embroidery. In this post, you will find:
6 items to enhance with the butterflies machine embroidery
Most popular butterfly machine embroidery designs
6 items to enhance with the butterfly machine embroidery design
Clothing:
From shirts and blouses to jeans and jackets, clothing items provide a canvas for butterfly embroidery. You can create a focal point by embroidering a large butterfly on the back of a denim jacket or add delicate butterfly accents along the collar or sleeves of a blouse. The possibilities are endless, and the result is a unique and eye-catching piece of wearable art.
Accessories:
Accessories offer endless opportunities for butterfly embroidery. Consider embellishing a plain handbag with a colorful butterfly design to make it truly stand out. Scarves can be transformed into ethereal works of art with delicate butterfly motifs. Hats, gloves, and even shoes can be adorned with embroidered butterflies, adding a touch of whimsy and personality to your style.
Home Decor:
Spruce up your living space with butterfly embroidery on home decor items. Pillowcases and cushions can be transformed into decorative focal points with intricately embroidered butterfly designs. Curtains and drapes can also benefit from butterfly motifs, adding a sense of natural beauty and elegance to your windows. Tablecloths, placemats, and napkins can be embroidered with butterflies to create a charming and unique dining experience.
Linens:
Give your bed and bath linens a luxurious upgrade with butterfly embroidery. Embellish the borders of your bed sheets or pillow shams with delicate butterfly patterns, creating a serene and inviting atmosphere. Towels and bathrobes can be personalized with embroidered butterflies, turning everyday essentials into artistic statements.
Children's Items with the machine embroidery design:
Butterfly embroidery can bring joy and whimsy to children's items. Adorn a baby blanket or onesie with sweet butterfly designs to create a personalized and thoughtful gift. Backpacks, lunch bags, and pencil cases can also be embroidered with playful butterfly motifs, making them unique and cherished possessions for your little ones.
Gifts:
If you're looking for a heartfelt and handmade gift, consider embroidering butterfly designs on items like handkerchiefs, tote bags, or even personalized bookmarks. The recipient will appreciate the thoughtfulness and the beauty of the embroidered butterflies, making it a memorable and cherished keepsake. When it comes to embroidering with butterflies, the only limit is your imagination. Whether you're embellishing clothing, accessories, home decor items, linens, children's items, or creating one-of-a-kind gifts, butterfly embroidery adds a touch of charm and elegance to any object. With the wide range of butterfly embroidery designs available, you can find the perfect pattern to bring your creative vision to life. So, pick up your embroidery hoop, thread your machine needle, and let the butterflies dance across your favorite items, transforming them into artistic delights
Most popular butterfly machine embroidery design: