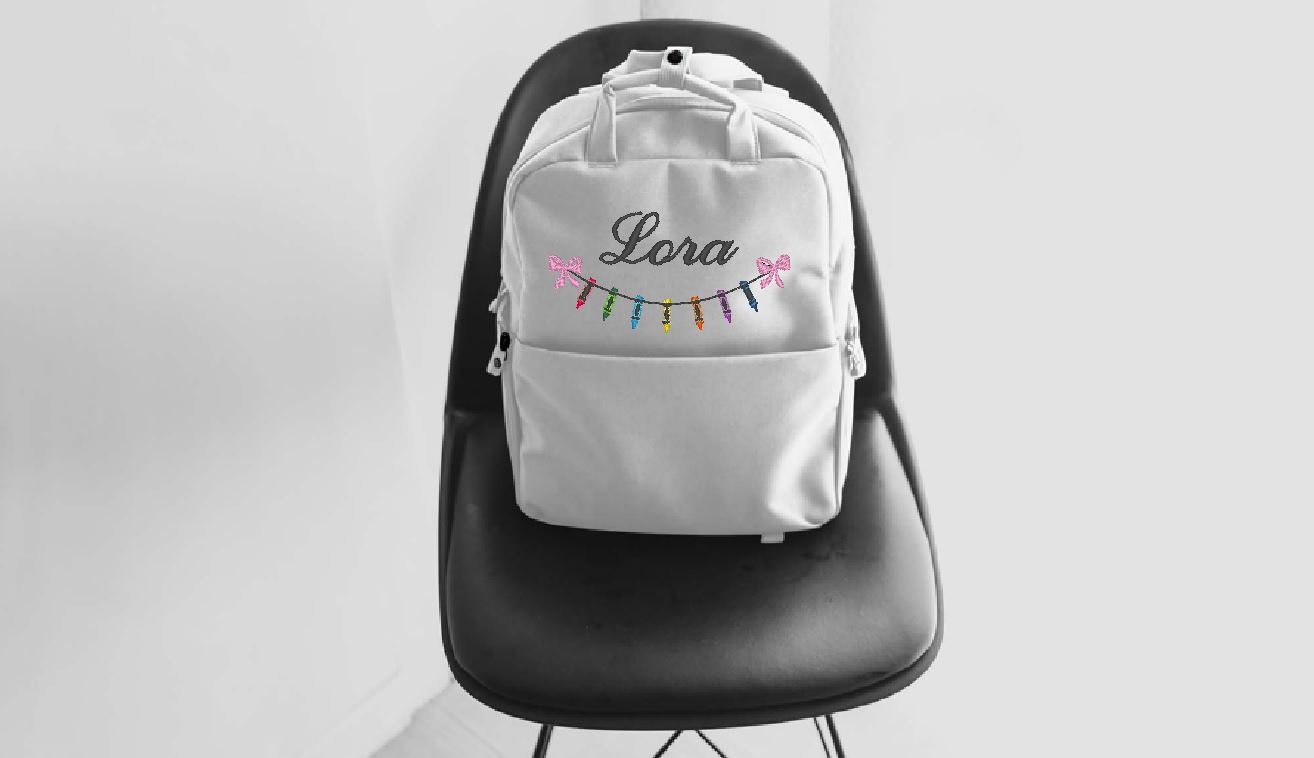 The back-to-school machine embroidery designs might be a great idea for summer evenings. Summer break doesn't last forever and it's time to prepare for back-to-school season. There are several ways to make this time special by preparing some special gifts and accessories for your schoolmates students and teachers. In this post, you will find:
10 most popular items to embroider back-to-school machine embroidery designs
As students prepare to head back to school, embroidery enthusiasts have an exciting array of popular items to create, adding a personalized touch to everyday essentials. Among the most sought-after embroidery projects are backpacks, pencil cases, and patches to personalize with the back-to-school machine embroidery designs.
Backpacks: A backpack is an essential school item that provides both utility and style. By embroidering names, initials, or favorite designs onto backpacks, students can express their unique personalities and easily identify their bags in crowded hallways.
Pencil Cases: Pencil cases are a must-have for organizing school supplies. With embroidery, these cases can be transformed into personalized art pieces. From whimsical patterns to motivational quotes, students can find inspiration every time they reach for a pen or pencil.
Patches: Embroidered patches offer a creative way to mend torn clothes or simply embellish plain backpacks and jackets. Custom patches with school mascots, favorite bands, or quirky designs can help students showcase their individuality and spark conversations with peers.
Tote Bags: Tote bags have become increasingly popular for carrying books and other essentials to class. By adding embroidery to these versatile bags, students can create practical yet fashionable accessories that perfectly complement their style.
Laptop Sleeves: As technology plays a significant role in education, laptop sleeves are indispensable. Embroidering unique patterns or initials onto these sleeves adds a touch of personality and provides protection for valuable devices.
Bookmarks: For avid readers among students, embroidered bookmarks make for thoughtful and cherished gifts. Delicate designs and inspiring quotes will bring joy to their study sessions and leisure reading alike.
Lanyards: Lanyards are functional for holding student IDs and keys. Transforming them with embroidery ensures they're not just practical but also visually appealing. Students can pick colors and patterns that resonate with their tastes and style.
Caps/Hats: Caps are a trendy accessory that not only offers shade but also serves as a fashion statement. By embroidering logos, names, or symbols on caps, students can proudly represent their school or favorite team.
Notebooks: Personalized notebooks are a fantastic way to kickstart the school year. Embroidered covers featuring unique designs or inspirational messages make for beautiful and motivational study companions.
Water Bottle Sleeves: Staying hydrated throughout the school day is essential. An embroidered water bottle sleeve not only keeps beverages cool but also showcases the student's creative flair.
In conclusion, embroidery enthusiasts have a plethora of popular items to create using back-to-school machine embroidery designs. From adding personal touches to backpacks and pencil cases to crafting custom patches and bookmarks, these projects enable students to showcase their creativity and individuality while adding a touch of charm to their everyday school essentials.
Top 5 Most popular back-to-school machine embroidery designs
The top five most popular back-to-school machine embroidery designs encompass a range of themes that resonate with students and capture the essence of the academic environment. Here are the top choices:
School Supplies: Designs featuring commonly used school supplies like pencils, pens, rulers, scissors, and notebooks are perennial favorites. These designs can be stitched onto backpacks, pencil cases, or even clothing, creating a cohesive back-to-school aesthetic.
Apple for the Teacher: The classic symbol of appreciation for educators, an apple design is a timeless choice for back-to-school machine embroidery designs. It can be incorporated into various items, such as teacher gifts, tote bags, or even patches.
ABC and 123: Alphabet and numeral designs are perfect for early education and elementary school-related projects. These designs often feature colorful and playful fonts, making them eye-catching additions to backpacks, lunch bags, or classroom decorations.
School Bus: The iconic yellow school bus is an instantly recognizable symbol of the back-to-school season. Embroidering a school bus design onto backpacks or jackets can evoke feelings of excitement and anticipation for the upcoming academic year.
Graduation Cap: As students embark on their educational journey, a graduation cap design is a symbol of their goals and aspirations. Embroidering this design onto items like tote bags, patches, or even graduation gifts can celebrate academic milestones and inspire students to achieve their dreams.
These popular back-to-school machine embroidery designs capture the essence of education, school spirit, and the joy of learning. Each design allows students to express their individuality and personalize their belongings while adding a touch of charm and excitement to the start of the school year.
Bestselling back-to-school machine embroidery designs in our e-shop.