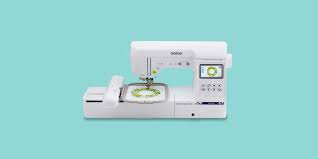 Choosing the right embroidery machine can be an important decision for anyone interested in embroidery. In this post I would like to discuss the tips

How to choose an embroidery machine
Top 20 embroidery machines and suitable filetypes for them
Here are 10 outstanding tips to help you choose the right embroidery machine:
Determine your embroidery needs: Consider your embroidery goals, such as the type of projects you want to create, the complexity of designs you want to stitch, and the size of designs you want to work with. This will help you identify the features and specifications you need in an embroidery machine.
Set a budget: Determine how much you are willing to spend on an embroidery machine. Embroidery machines can vary greatly in price, so having a budget in mind will help narrow down your options and prevent overspending.
Research different brands and models: Take the time to research different embroidery machine brands and models. Read reviews, compare features, and consider the reputation and reliability of the brand. Look for machines that are known for their quality, durability, and performance.
Consider the hoop size and embroidery area: Check the hoop size and embroidery area of the machine. The hoop size determines the maximum size of designs you can stitch. Choose a machine that offers a hoop size suitable for your projects. Additionally, consider the embroidery area or the maximum stitching area the machine can cover.
Look for user-friendly features: Consider the ease of use and user-friendly features of the embroidery machine. Look for machines with intuitive interfaces, clear instructions, and helpful built-in tutorials. Features like automatic thread cutting, needle threaders, and adjustable speed can also enhance your embroidery experience.
Check file format compatibility: Ensure that the machine supports the file formats you plan to use for embroidery designs. Common file formats include PES, DST, EXP, JEF, and VP3. Compatibility with various file formats gives you more flexibility in sourcing or creating designs.
Test the machine if possible: If possible, try out the machine before making a purchase. Visit a dealer or attend trade shows where you can see the machine in action and ask questions. Testing the machine allows you to assess its stitching quality, noise level, and overall performance.
Consider customer support and warranty: Look into the customer support and warranty provided by the manufacturer. Check if they offer technical support, training resources, and any additional accessories or software included with the machine. A good warranty will provide you with peace of mind and protection against potential defects or issues.
Seek recommendations and advice: Reach out to other embroiderers or join online embroidery communities to gather insights and recommendations. Experienced users can provide valuable feedback and guidance based on their own experiences with different embroidery machines.
By considering these tips and evaluating your specific needs and preferences, you can make an informed decision when choosing an embroidery machine that suits your requirements and budget.
Here is a list of 20 embroidery machine brands, along with the file formats they typically support:
Brother SE600 – PES, DST, EXP, JEF, PEC, VP3, VIP
Janome Memory Craft 500E – JEF, JEF+, EXP, DST, PES, PEC, VP3
Singer Quantum Stylist EM200 – XXX, DST, EXP, PES, JEF, SEW
Bernina 770QE – ART, EXP, PES, DST, HUS, JEF, PCS, SEW, VIP, VP3, XXX
Babylock Destiny II – PES, DST, EXP, JEF, VIP, VP3, VP4
Husqvarna Viking Designer EPIC 2 – VP3, HUS, VIP, SHV, PES, DST, EXP, PCS, XXX
Pfaff Creative Icon – VP3, VP4, VIP, HUS, PCS, DST, EXP, PES, JEF, JEF+, XXX
Tajima TMAR-K1506C – DST, DSZ
Melco Amaya Bravo – EXP, DST
Happy Voyager HCS-1201-30 – DST, DSB
ZSK Sprint 6 – DST, DSZ
Barudan BEAT 850 – DST, DSZ
SWF MAS-12 – DST, DSZ
Ricoma MT-1502 – DST, DSZ
Toyota Expert AD860 – DST, DSZ
Janome MB-4S – JEF, JEF+, DST, EXP, PES, PEC, VP3
Tajima TMBP-SC series – DST, DSZ
Brother PR1050X – PES, DST, EXP, PHC, PHX
Happy HCD2-1501 – DST, HAP, DSZ
Bernina E 16 – EXP, DST, PES, PEC, PHC, PHX, SEW, PCS
Please note that file formats can vary depending on the specific machine model and software compatibility. It's always recommended to check the machine's documentation or contact the manufacturer for the most accurate and up-to-date information on supported file formats.
Are you looking for machine embroidery designs?